When small businesses start out, they focus on getting their first customers through the door. How Digital marketing for small business can help?
They may rely on traditional forms of advertising such as print ads, coupons, or even outdoor advertising. Businesses may believe that because they offer a good product or service, it's only a matter of time before customers find their way to them.
While this strategy may bring in drops of business, there is a better and easier way. Small businesses should consider the global marketplace of online leads and benefit from the convergence of their traditional and digital marketing. No small business, no matter how new, should overlook digital channels as a way to generate leads and convert interest into customers. That's What Digital Marketing for Small Business build for.
Let's take a look at the benefits of digital marketing and the ways online platforms can be used to grow your business.
There is a much larger pool of potential customers that you can find online than you will ever be able to attract just locally. Using digital marketing techniques, you can reach a global audience in a way that is cost-effective, scalable and measurable.
The main benefits of Digital Marketing for Small Business include:
The ability to communicate with your potential customers and learn exactly what they are looking for, i.e. get to know your customers better!
The ability to reach anyone, anywhere, because with digital there are no geographical boundaries
Target the right audience at the right time – personalization is easier with digital marketing
Communicate with your prospects at every stage of the buying process
Save money and reach more customers for less
Know your audience and drive engagement to build brand loyalty. Get inspired by the power of customer loyalty programs.
Easily and instantly monitor and track responses to your marketing efforts
We're getting started with digital marketing for small businesses
With endless possibilities, digital marketing can seem intimidating if you've never used it for business before. There are a number of digital marketing platforms and terms that can make it seem like a bigger project than it is.
Small businesses may believe they don't have the time or money to compete online. As a result, many prefer to take it slow and stick with one or two forms of traditional advertising, assuming their business will evolve over time.
The fact is, the market is competitive, and while word of mouth and customer referrals can help drive traffic, customers will struggle to find your business if you don't appear in the places where they spend time. After all, 4.6 billion people use the Internet for many reasons. That's 60% of global internet penetration according to the Digital 2021: Global Overview Report.
So delaying building an online presence is not an effective approach. The best way to ensure success is to promote your business globally and use targeting to attract customers who are interested in your service or product.
---
AppScenic Drop Shipping : Legit OR Scam
---
Realize that your customers are online
When someone is interested in your business, whether in your industry or curious about your brand, the first thing they do is research online and see what they can find out about you.
In today's digital age, customers expect to find a website and social media presence. They may be looking for reviews to find out what others are saying about your company and whether it is a good place to do business. For local businesses, 87% of consumers read online reviews – a 6% increase between 2019 and 2020.
So if a potential customer can't find you online, they may conclude that your business doesn't look legitimate. There is a very good chance that many of these potential customers will decide not to take your business seriously and will quickly head elsewhere.
Find out what your competitors are doing online
In order for your business to be successful, you need to pay attention to what your competitors are doing in Digital Marketing for Small Business and learn from it. Don't think of your competitors as someone to beat, but as people who have something to teach you.
Looking at what your competitors are doing online will give you some idea of ​​what is working and what isn't. Most likely, regardless of the type of business you are in, your competitors have created a web presence. What kind of content do they use, is there a blog or do they promote visual content like videos?
How do they communicate their brand and what makes them unique? How well do they communicate with the audience? Can you do better?
A great way to find out what your competitors are doing is to do some research. Find out what platforms they are using, are they targeting keywords, are there any influencers they are using to drive traffic? Fortunately, there are some great online tools to help you in Digital Marketing for Small Business:
Semrush – Great for keyword ranking and keyword traffic
Ahrefs – useful for discovering the most linked content of competitors
Moz – Another keyword ranking platform
BuzzSumo – Follow popular content types and influencers
Google Alerts – A tool to track mentions of any competitor you choose to follow
Ontolo – A great tool for backlinks and content marketing
There are also some amazing customer insights tools that you can use in your persona development and content marketing.
Be accessible to your customers
As we've already discussed, your business needs to be present where your customers are, online. No matter what product or service a person is looking for, they will most likely start their search with Google. If you have no online presence, then no one will find you and you cannot compete.
If you're online, but your competitors are easier to find because they're higher in the search, they still might not find you. Along with building a website, learning what search engine optimization (SEO) is and why it's important will help you stand out from the competition by being the first name a potential customer finds in a Google search.
Keywords are key to this, so make sure you understand the best keywords (long-tail and short-tail) for your business. Use this simple info graphic to guide you through the five steps of keyword research in Digital Marketing for Small Business.
You should also include simple questions that potential customers may need quick answers to, such as where you are located, hours of operation, and details about your product or service. By looking at your website and your competitors' websites side by side, your potential customers should be able to compare hours, prices, special offers and more to make the best decision for them.
If you need help getting started, we've created this handy guide to SEO for small businesses.
Let customers come to you
Think of Digital Marketing for Small Business as a way to make yourself accessible to the people you're trying to target. The reach of your business can extend far beyond your location and scalability becomes a reality.
With a web presence, your business is open for business even when you are not! You can create an environment where your customers can contact you day or night.
This means customers and prospects can email you with questions, make purchases, and browse your inventory with just a few simple clicks. In addition, potential customers who do not have the opportunity to physically come to you can still do business with you through the e-commerce function or simply by using social media.
Know your target group
The beauty of digital marketing is that it allows you to reach potential customers. You can recognize them and provide solutions to their pain points. On social media or through a blog, you can start a conversation or conduct a survey to gain insight. Pay attention to all comments or survey responses.
By interacting with people online, you can begin to learn what they are looking for. What are their pain points? What keeps them up at night? Use this information to offer solutions through your product or service. Using digital marketing helps you gauge who your customers are, so you can personalize your communications and refine your targeting in Digital Marketing for Small Business.
This will build a relationship with your customers. You will become much more than just a business, you will become a trusted partner. Remember that people are also more likely to buy from companies they've bought from before and had a good experience with.
Do more marketing for less!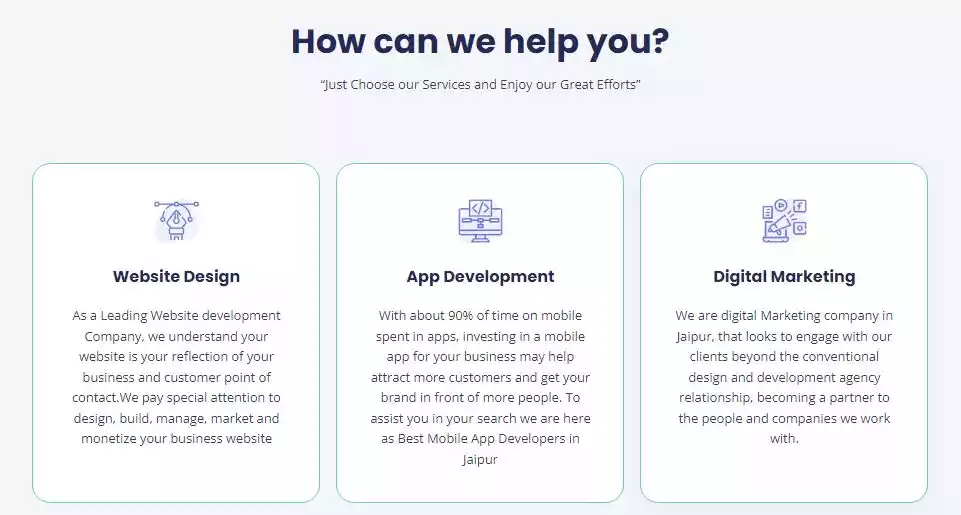 Few forms of advertising are as cost-effective as digital marketing. Small businesses and startups are always trying to get the most out of their marketing with a limited budget.
Online advertising can stretch your budget further and allow you to refine your target audience. Social media is particularly good for this as it allows you to set a daily budget for a discrete audience that is interested in your brand or ethos. Most importantly, it allows your business to exclude people who would never buy from you – saving you time and money!
The key to social media advertising is choosing the platform that will work best for you and your brand. Don't choose TikTok just because it's popular or advertise on LinkedIn when you're not trying to generate B2B interest. Explore social channels, look through social media demographics guides to find one that matches what you're looking for, and run some simple tests to see what messages and content are working.
If you need help with budgets, check out this great digital marketing budget toolkit.
Transform your small business's marketing capabilities
Are you looking to create a website that can generate leads? Or maybe you want to set up a Facebook campaign to see results. The first step to achieving these goals is to develop an understanding of digital marketing and how it can positively impact your business. Digital Marketing for Small Business professional courses will teach you the most relevant and up-to-date digital marketing skills. From social media to SEO and paid search, you'll have the tools to ensure your business succeeds online.
If you like our efforts, please leave a comment and share it to your friends.