Hey, Are You Looking for a payment gateway for your Website OR App. Here it is. Razorpay Checkout is the one with Fast Pay & Awesome Features
Razorpay is the only converged payment solution company in India that enables your business to accept, process and disburse payments through a suite of products. With Razorpay checkout, you have access to all payment modes including credit and debit cards, UPI and popular mobile wallets.
The most important quality of a payment solution is the ability to scale to meet your growing demands. At Razorpay checkout, we strive to ensure that you have the best payment infrastructure.
Read on to see if these goals resonate with you.
Razorpay Awesome Features
Easily add payments to your website or app with a seamless payment experience
Razorpay's Payment Gateway is a system designed for end-to-end payment processing.
Did we tell you how easy it is to integrate our payment gateway? You can go live in minutes, especially since our payment gateway is built for developers. The API, plugins and libraries are very developer friendly.
Razorpay checkoutgateway supports the most extensive set of payment modes. From domestic and international credit/debit cards to UPI and mobile wallets, we've got you covered.
Wide range of payment solutions and services to support your versatile business
How would you reduce recurring collection costs, increase monthly recurring revenue, reduce customer churn and offer your customers a better user experience, all at the same time?
With a subscription model, of course!
Offer your customers plans with automatic recurring transactions in many payment modes.
With a Razorpay checkout subscription, you can join subscribers from all over the world! The subscription also supports multiple billing models. Meaning –
You can automate your fixed price recurring charges to your customers on a fixed schedule
You have the flexibility to bill the customer based on the number of users or quantity per billing cycle
You can only bill a customer for what they use within the billing cycle
Let's say you're dealing with a one-time use case where you want to accept payments from your customers. It could be something like a workshop or even fundraising for a charity. Would you build a whole new ecosystem for it?
No way!
Create a Razorpay checkout / payment link or payment page and share with your customers via email, text or social media without creating a separate integration!
With one of Razorpay's products, you can accept payments in 100 currencies from around the world!
Focus your efforts on specific areas of your business based on data and statistics
Decision making is a crucial aspect of any business. And data plays a huge role in this process as it allows you to create business contingencies as you can predict future trends and optimize your current efforts.
Razorpay Dashboard is the most comprehensive, data-driven and analytics dashboard to serve your purpose.
The dashboard helps you evaluate real-time data and draw insights from extensive reports so you can make better, more informed business decisions.
Must Read
Manage and track the movement of money to suppliers, customers, employees and more
We understand that traditional payments and payouts can be inconvenient. With traditional banking, you spend many hours of manual work every month due to many software bugs and complex infra systems.
Showing the movement of money can also be very difficult due to the complexity. Oh, and let's not forget that you don't get any payment insight to make impactful business decisions.
No longer.
With RazorpayX you can simplify, speed up and enhance every aspect of your financial operations! From accepting payments and managing cash flow to reconciling transactions and flexible payouts.
With instant payouts with reduced manual effort, you save 10x time, which also provides an excellent customer experience.
RazorpayX provides you with a single platform that helps you execute, control, track and analyze all forms of money movement from your powerful dashboard.
You can also manage and track the flow of money to vendors, customers, employees, etc. through an in-depth financial CRM.
The result, you ask?
With standard payout mode analysis, you make informed and impactful trading decisions!
Say goodbye to traditional banking with RazorpayX!
No stone unturned when it comes to providing the best support to your customers
As your business grows to new heights, you definitely need highly responsive customer service. What's the point of a product if the customer support is sloppy?
Your customers' problems are our problems.
With Razorpay's remarkable customer support, you don't have to worry about clearing up any payment-related setbacks to your customers. We will solve all the problems for you and in return we will help you to serve your customers better.
Your customers spend less time waiting and their problems are solved at lightning speed.
Our customer support offers live support for you and your customers. And we mean real people and not robots.
Open up new sources of income by expanding your business on a global scale
With Razorpay International Payments, you can open a whole new acquisition channel and take your business to a whole new level!
We understand payments more than anyone, and it only makes sense that we support you as you take your business out into the world.
Give your business a state-of-the-art payment infrastructure with Razorpay International Payments.
With over 100 currencies supported on the platform, experience seamless payments from anywhere in the world with real-time currency conversion!
You can integrate a payment gateway in minutes or provide your international customers with subscription plans with automatic recurring transactions.
You can share payment links via text, email, and more, or create your own branded payment pages to accept international payments online.
You can also send invoices that are GST claims to your global customers with item-level details and receive payments through the many different payment methods we support!
Highly reliable fraud prevention and security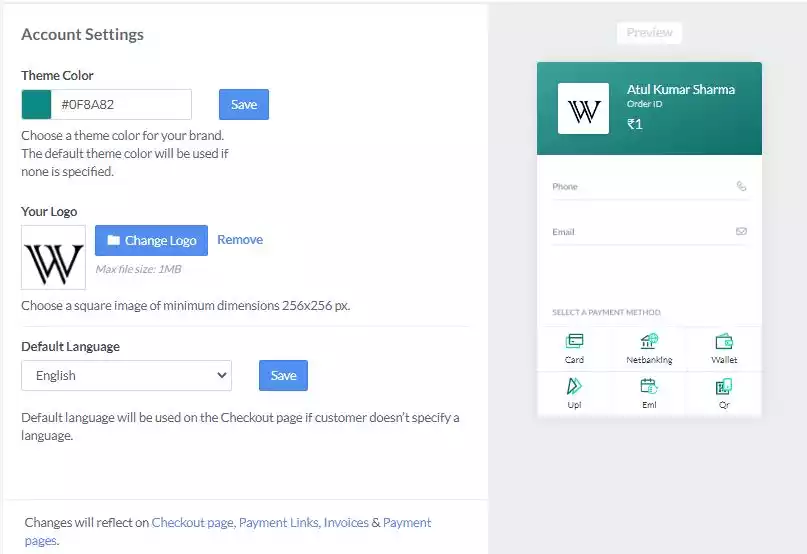 We understand that most people have various security concerns when conducting online transactions. After all, it's hard-earned money. With so many people shopping online, there is a growing need to ensure that all the information they enter is protected.
And we're highly motivated to provide robust security to keep this sensitive information out of the wrong hands. This is where Payment Compliance comes in.
Created, mandated and registered by Brand Cards and the Payment Card Industry Security Standards Council (PCI SSC), the Payment Card Industry Data Security Standard (PCI DSS) is a set of rules that ensure every transaction is secure and no data is lost. .
All Razorpay checkout products are secured with an industry standard 100% PCI DSS compliant and certified solution.
So, did you nod and think, "Yes, I need that!"? Then get started with Razorpay checkout now!
Need Any Assistance setting up razorpay checkout? Just reach out to us.
If you like our efforts, please leave a comment and share it to your friends.