Now you have seen the power of instagram for small business. From customer complaints to a product going viral, the platform offers many features for small businesses, leveling the proverbial digital playing field between small and large businesses. But since it's been around for a while, there's a lot of information out there about how brands can use it. In this guide, we'll break down how to use Instagram for small business, from leveraging the platform's features to specific ideas for growing your digital footprint.
Why should you use Instagram for small business?
When your presence is properly planned and managed, Instagram offers small businesses a wide range of benefits. If you're using the platform as a marketing outlet, you need a documented Instagram marketing strategy. Yes, even if you are the only one operating the account. According to Instagram's own study, 81% of users said that Instagram helps them research products and services. You don't want to lose a whole bunch of customers just because you're not active online. Read on for tips on how to maximize small business Instagram accounts.
1. The basics: Set up your profile
You might roll your eyes at this, but it's a necessary reminder. Once you've set up your business account, take a moment to comb through your Instagram profile. New features and settings are constantly changing, sometimes without notice. It doesn't hurt to check if you have any new features to try out.
Other standard basic business profile items to consider include updating business categories, hours of operation, location(s), contact methods and linking to any service or product catalogs. While you're here, review and make sure your profile elements, such as your bio and profile picture, are consistent with your general social media branding.
2. Optimize your link in bio
Social media managers have gotten creative in how to take full advantage of the single link box that Instagram has to offer. It has become common in posts to link to your "link in bio" and use that link to display a landing page with a mix of recent content and evergreen links to your most important product and service pages.
Social's link in bio feature, If your business shares links, has multiple links to provide to customers, has multiple offers, or all of the above, then landing page access is for you. There are several tools that allow you to create a link on your bio landing page. Social's Link makes setup easy by offering a landing page that replicates your grid and provides clickable links for each post to highlight and drive traffic to your most important content.
Plus, you can stay within Instagram publishing workflow to optimize and schedule the rest of your content. Just as you want to set up your profile with basic business information, small businesses should share the most important information with customers via a link in their bio.
3. Geotag your posts
When posting from your small business's physical location, add the name of the location to the post. If you haven't done so when posting before, you can go to past posts and edit them. niku steakhouse geotag on instagram for small business. What does geotagging do? Instagram compiles all the posts tagged in that location and ranks them best and newest.
Your brand photos live among customers' photos. "View information" above refers to information about the marked business. All of this contributes to brand awareness and helps customers research your business. Don't know what to order at a restaurant? Just scroll through the latest photos and see what people recommend.
---
MUST READ
---
4. Use the save post function
This strategy isn't publicly available, but it could be useful for boosting your small business's Instagram content strategy. Instagram offers the option to "save" a post and organize them into a collection that you can view later. While it is not necessary to create collections, it is advisable. There are many ways to use this feature for research and inspiration. Some collection ideas include:
What your competitors are posting about
Visual inspiration for photos
Great headlines you've come across
Ideas for future posts
Customer reviews
Posts from happy and unhappy customers
Potential influencers
As you can see, there are several options for you. If you find yourself thinking, "That's a great post," hit the save button.
5. Use Highlights to showcase what your business is all about
The Instagram Stories Highlights feature gives you the ability to share even more about your company. Highlights extend the life of your stories by featuring them on your profile after they would normally disappear, and can help you aggregate those stories into an easy source of evergreen content. Since they appear above your grid, start with the basics like:

Just a few posts about your values, watches and brand
Places or Highlight by Place: If you have multiple places, talk about each one and share photos from them
Customer reviews or posts: Repost from customer feed posts or create graphics that highlight reviews from elsewhere
Frequently Asked Questions: Share information that customers frequently request. This will also save you time when responding to customers, as you can then direct them to this Highlight
Product/Service Features: Make one general or highlight per product or service. Some things just don't fit into one post. Here you can go deep into details.
Freddy's Steakburgers IG bio shows how they use the best And now that you have the basics, it's time to get even more creative. A good place to start is with the content topics you're already creating in your feed. Are you doing a series on each employee? Save all of this to the highlight. Maybe you're an event planner. Take a behind-the-scenes look at your process and demonstrate what you do for the client. Have fun with your highlights. This is where your brand voice can shine.
6. Create clues
Like Instagram Highlights, Guides gives you the chance to compile your favorite posts into one piece of featured content. However, there are some key differences. It's an editorial format, almost like you're reading an article. You can include photos and posts from your own feed and from other feeds you've saved. ig guides Each embed allows a description where you can write even more about the product or location you're featuring.
In addition to the ideas already mentioned in the Highlights section, guides are great for building a list of location recommendations. It can be any of your places or local businesses that you recommend. You can expand the topic to an introduction to your city, an exploration of the neighborhood you're in, or influencer recommendations. And if you are hesitant to use this feature? No worries. Guides can be saved as drafts until you're ready to publish them.
7. Pay attention to the subtitles
Your first line in your headline is what grabs people's attention and decides whether they'll expand to read more. In addition to paying attention to the first line, you should check the rest of the headline. With the recent addition of Instagram keyword search, what you write in your instagram for small business caption is more important than ever.
In the past, you could be cute or stylish with your words, and while that doesn't mean you can't still do that, you should make sure you include the words you want others to associate you with. Similar to doing basic keyword research, this could include your brand and product names or general terms related to your business category.
8. Use Instagram Live all the time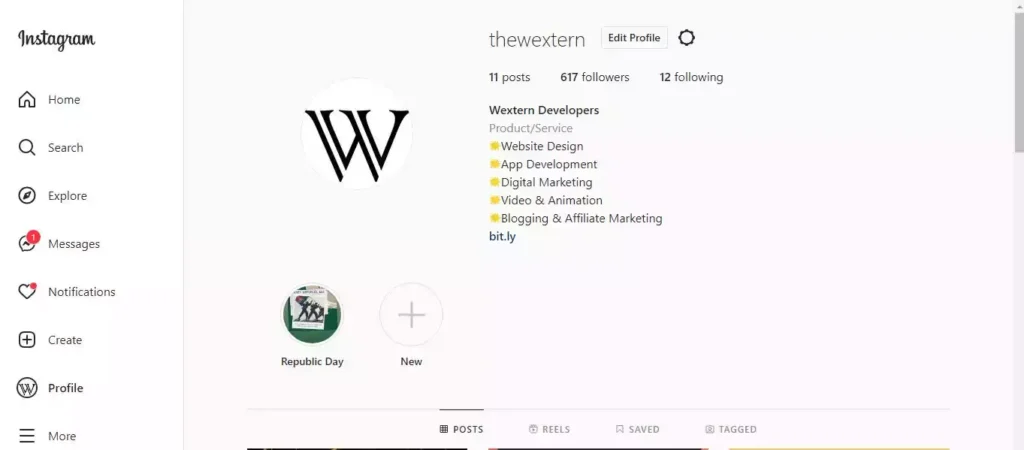 The popularity of Going Live for brands skyrocketed in 2020 as marketers and business owners discovered they were working from home but still needed to connect with customers on a personal level. ig live examples There are many benefits to using Instagram Live.
The biggest one is that followers will receive a notification when the account they are following becomes active. This instant communication is essential especially when you are trying to stand out in the network. Some ideas to get started on Ziva:
Go behind the scenes: Take a tour of your space or demonstrate the creative process. Anything the customer doesn't have public access to is where you should start.
Run Q&A: instagram for small business has a Q&A feature where if you use an associated sticker, the story post will change to reflect that. Live Q&As can ask anything (AMAs) or focus on specific products.
Chat: Share a live stream with another account. Having a guest on Live gives you the opportunity to interview them on the spot or give them a microphone so they can talk about whatever they're passionate about.
Introduce the product or service: Is it easier to show than tell about your product or service? Use Live to describe it in detail. If comments are turned on, your viewers will also give you tips on what they want to see.
9. Offer "followers only" promotions.
Everyone loves a good sale. But an exclusive sale? This is the use of FOMO and urgency marketing tactics. If you run a follower-only promotion for a limited time, it gives your followers another reason to stay engaged and stick around for more. Use the Stories countdown sticker to create hype or flash sales to make events unpredictable.
10. Arrange a gift
One of the best ways to organically grow your Instagram account is to host giveaways. Something people love more than a good sale is free stuff. Depending on how you structure the gift, it can create additional engagement for you. In addition to asking people to follow your account, add requests like saving a post, commenting on a post, or sending it to a friend.
Contest promotions on IIG instagram for small business are low-hanging fruit for small businesses. You can also pair up with other small businesses that share a similar audience to increase your brand awareness. Of course, you shouldn't rely on this strategy as your only social media strategy. Give your new followers more reasons to stick around than just hosting giveaways.
11. Arrange a takeover
Another way to increase brand exposure for your small business is to host a takeover or takeover of another business's account. A social media takeover usually consists of a series of scheduled posts over a period of time. Some take all day, while others post daily for a week. These posts can be feed-only, stories-only, live, or a combination of all the posting features Instagram offers.
When you're hosting a takeover, think of it as structuring a story. You need to introduce the person, talk about what they will cover, post the content of the takeover, and then end with a compelling farewell. Common takeover guests include industry peers, representatives from other small businesses you're friendly with, and employees.
12. Increase the use of DM
Building a community is a slow process and one aspect of it is creating that connection between you and your customer. What better way to do this than by sending personal messages? Graphic showing the role of private messages and direct messages in a brands social media strategy.
In our Social Index™: Social Media Trends 2022 and Beyond, private or direct messaging accounts for 38% of brands' social media strategies. Add that to the nearly three-quarters of consumers who expect a response on social media within 24 hours. Increasing DM usage is not just about being responsive.
You should also actively engage with customers in their own feed and stories. Social Engagement Inbox As your Instagram DM usage increases, you'll find you need a way to manage all your messages. This is where Smart Inbox comes into play. Manage your Instagram DMs with a workflow so you can spend more time responding to customers.
13. Monitor your analytics – instagram for small business
It's worth repeating this advice found in other guides: follow these Instagram analytics. Without data to back up your sense of success, your strategy won't hold up. If you're just starting out, you can tap into your native stats through the Instagram or Facebook app.
You also want to make sure you understand the differences between impressions, reach, and other network-specific metrics. Instagram Business Profiles Report tracks engagement, hashtag performance, and top post performance. You can compare your instagram for small business performance against other networks with the profile performance report in. Explore your Instagram data to learn more about what's working or where you can improve your strategy.
Take your Instagram for small business strategy further
This list is a great place to start with instagram for small business marketing tactics that small businesses can use to improve their online presence. Improving your instagram for small business strategy with tips like using story highlights and using Instagram Live regularly will help you connect with your customers. Starting your Instagram brand strategy from scratch? Create a personalized instagram for small business marketing strategy with our in-depth resources. Learn how to set goals, create a content plan, and more
If you like our efforts on instagram for small business, please leave a comment and share it with your friends.