Are You trying to accept payments online. Here we have reviewed Cashfree Payment Gateway. Go through our review and decide weather its good for you and not?
A powerful and scalable payment platform designed for your business needs – collect payments, send payments, manage international payments and more. Cashfree Payments is built for all types of businesses, from startups to enterprises that accept payments on websites, mobile apps or other channels like Whatsapp, social media, etc. 1,00,000+ merchants and leading brands like IRCTC, Nykaa , BigBasket, Cred and many more trust Cashfree Payments for payment processing. Learn more about Cashfree.
About Cashfree Payment Gateway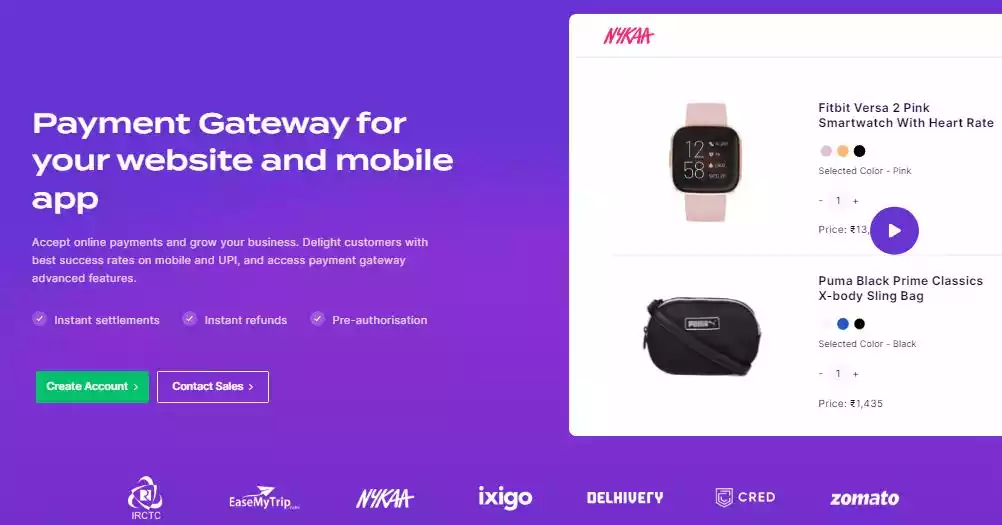 Cashfree Payment Gateway tools make it easy for a customer to pay online for goods and services that a customer purchases from e-commerce websites or applications.
Nowadays, online payment gateway tools are one of the key software tools used in the market.
Various payment gateway tools are available these days. Each payment gateway has some unique features. Cashfree Payment Gateway is also one of them. Cashfree payment gateway software is one of the most widely used payments in India.
In this tutorial we will discuss the following facts and information about Cashfree payment gateway.
Overview of the Cashfree Payment Gateway
Cashfree is a payment gateway that is widely used in India and helps Indian businesses make and receive payments.
Cashfree is currently used by more than 50,000 merchants for various purposes such as supplier payments, payroll payments and bulk refunds.
The Cashfree payment gateway is developed by a Bangalore-based company. Mr.Akash Sinha and Reeju Datta launched a Cashfree payment gateway in 2015.
It is a Bangalore based company. State Bank of India has also invested in Cashfree.
Payment gateway solution providers such as Easebuzz, Razorpay, Instamojo, YAP, Y Combinator-backed Decentro and PayU are competitors of Cashfree.
---
MUST READ
---
Cashfree customers include some of the leading companies in the internet world like CRED, BigBasket, Zomato, HDFC Ergo, Ixigo, Acko, Zoomcar and Delhivery.
Due to its advanced features, Cashfree payment gateway is also known as the next generation payment gateway.
The Cashfree payment gateway provides the highest number of pay later options including OLA Money, ePayLater, ZestMoney and multiple bank EMI options.
Cashfree also provides support for various eCommerce CMS systems. WooCommerce and Magento themes can be easily integrated with Cashfree.
Cashfree provides businesses with the fastest billing cycles and instant refunds.
With Cashfree, money can be received in more than 100+ payment modes like Rupay, UPI, IMPS and other wallets. With seamless checkout, product hosting and pre-authorization.
According to a report prepared by Cashfree, Cashfree currently conducts more than 4 million transactions every day. The number of transactions has increased by 50% in the last few months.
Some other platforms like coin base and recurring payment platforms have some support issues where as Cashfree it offers exceptional support to merchants. It helps them receive and send both domestic and international payments.
Cashfree also provides subscriptions for outstanding invoices and recurring payments. In addition, Cashfree also emits automatic collections to reconcile commission split payments with suppliers.
Cashfree Payment Gateway Features
Cashfree has various features that make it easier to use and more popular. Some of the important features of Cashfree are as follows –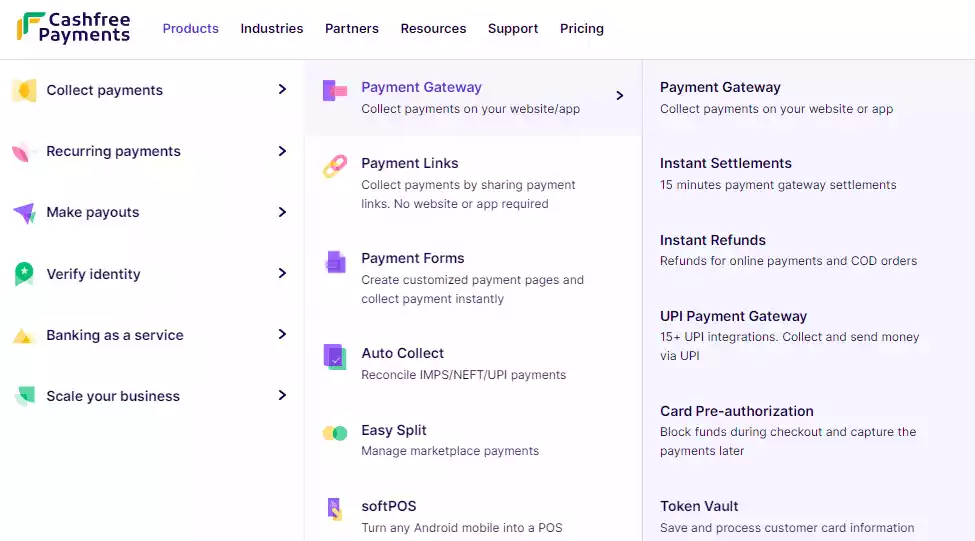 1. Pre-authorization
Pre-authorization is the process of authorizing and capturing funds when making a card transaction. This option is available in the Cashfree payment gateway to the merchant to block a certain amount of funds at the time of the customer's order.
Merchants use this option to temporarily hold part of the customer's fund, but the merchant only charges once at the time of delivery.
2. Dynamic descriptors
A merchant can assign a description and its product and services through dynamic descriptors. A merchant can use dynamic descriptors to let his customers know what he bought.
In addition, a merchant can also use a dynamic descriptor to describe a specific payment on a per-transaction basis. Using dynamic descriptors prevents fraud and reduces chargebacks. The dynamic descriptors feature available in Cashfree Payment Gateway also ensures charge recognition by adding context to the customer's statement.
3. Cashier
The checkout form available in the Cashfree Payment Gateway feature offers customers a simplified payment initiation flow.
Using this form, customers can enter the correct order, amount and customer details.
This checkout form redirects the customer to the Payment screen of the Cashfree Payment gateway.
Customer need not worry about navigating to any third party while using Cashfree payment gateway checkout. Cashfree provides several ways of integration The checkout can be customized.
Merchant can add UPI integrations including Webflow, intent flow, Google Pay integration and UPI SDK integration.
4. Security of the vault
The Cashfree payment gateway provides merchants with the ability to store customer information in a secure Cashfree vault.
Store cards provide hassle-free payment for customers.
Once the customer's details are stored in the store's vault, the customer does not need to re-enter the details at the next checkout.
Here is an important notice for the customer that the CVV number of the customer card is not stored in a vault and is fully PCI-DSS compliant. The Cashfree safe is secure.
5. Dynamic Routing
For a transaction to succeed, the routing techniques should be efficient, as inefficient routing leads to a failed transaction.
A dynamic routing mechanism is implemented in the Cashfree payment gateway, which reduces the probability of transaction failure.
Additionally, the dynamic routing implemented in Cashfree Payment Gateway also reduces transaction latency, providing a great customer experience.
6. Security
Security is one of the main concerns of a customer when making a payment online. Cashfree provides its customers with a secure way to transfer money.
Thanks to its High-level Security feature, Cashfree is widely used by everyone from individual freelancers to small and large organizations.
Cashfree use of PCI-DSS compliance that increases the level of security. Keeps your password safe. The Cashfree payment gateway also maintains API security.
Cashfree also supports two-factor authentication. Cashfree takes customer reports of fraudulent activity very seriously. In such situations, Cashfree provides immediate technical support to the customer.
7. Plug and Play
The plug and play solution is new for the payment gateway. The Plug and Play payment management solution is specially implemented to fully meet the needs of online merchants.
Cashfree also provides support for ready-to-use plugins for companies like Shopify, Open Cart and Prestashop.
The key feature of Plug n Play is that it allows a merchant to scale their business to greater heights without compromising security. The Plug and Play feature provided by Cashfree reduces reliance on cash transactions and some other infrastructure constraints
8. Good customer support
24*7 customer support via phone call, email and chat is available to customers. Customers can choose to pay in these currencies provided the merchant has provided all relevant documents and obtained approval from bank partners.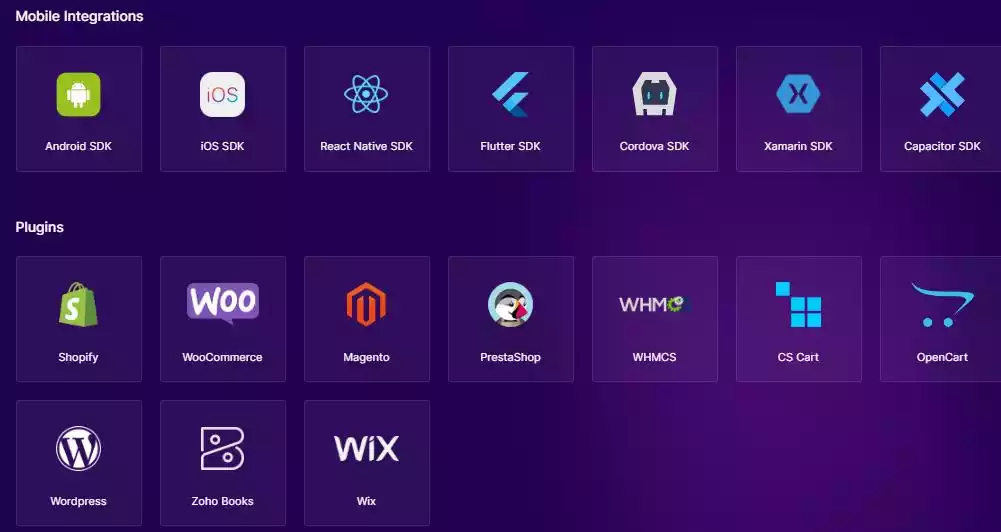 Advantages of the Cashfree payment gateway
Various benefits of Cashfree payment gateway are as follows-
The payment success rate of the Cashfree payment gateway is higher for both domestic and international transactions compared to other payment gateways.
Increases customer confidence. Sometimes a customer may not feel safe to proceed with a transaction if the security level is low. As Cashfree is widely used by both small and large organizations and its high level of security features increase customer confidence.
Cashfree provides analytical data.
The Cashfree payment gateway also provides various kinds of data to the merchant. The type of data provided by different payment gateways may vary. Every data provided has its use in the data analysis process.
Marketers can use this data in decision making or business policy to improve their business.
Cashfree payment is good and cheaper than other payment gateway.
Cashfree work faster and easy to use.
Cashfree gives merchants the ability to verify their customers' bank accounts, including account and holder name, before sending any money.
Cashfree accepts mobile payments directly on the customer's mobile phone.
With Cashfree Merchant can accept payments in multiple currencies
Cashfree can automatically track customer payments using a virtual bank account.
After each purchase, the commission was automatically split with the seller.
Disadvantages of a Cashfree payment gateway
There is always room for improvement in the development of payment gateways. Cashfree also has some areas of improvement or we can say disadvantages in the current version. Some of the disadvantages of using Cashfree based on customer feedback are as follows:
Cashfree does not have Amex enabled for international transactions.
The UI part should be improved.
Cashfree payment gateway sometimes takes more time to verify and activate your account.
Pricing of the Cashfree payment gateway
The price plan of the Cashfree payment gateway for various services is shown in the following table
1.75% per transaction for 70+ net banking.
2.5% per transaction for late payment or cardless EMI
3.75% + Rs 7 per transaction on international cards.
Standard payment gateway fees apply.
Payout
Visa, Mastercard: RS 10.0
AmazonPay: Wallet 1%
Paytm Wallet: 2.25%
Bank Account Verification
Rs 2.50 per verification
API for checking account validity and account holder name
Also verify UPI ID.
The full Cashfree plan includes the following –
Same day paperless boarding
Easy to use dashboard
Instant verification
A developer-friendly integration kit.
Conclusion and summary
Finally, we can say that Cashfree Payment Gateway has some advanced features that make it popular and easier to use, increase the success of the payment transaction. Safety mechanisms are also effective.
Hence, Cashfree is the best choice in India for individual freelancers and small and large business organizations.
If you like our efforts, please leave a comment and share it with your friends.